Avaira Vitality (3 lenses)
Smart alternative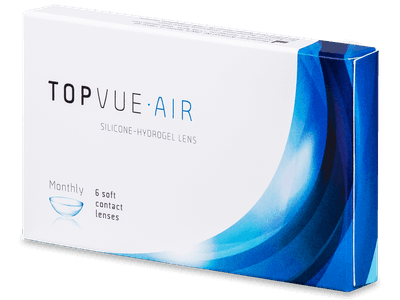 TopVue Air (6 lenses)
In stock
High breathability
High water content
Sodium-hyaluronate lubrication
Avaira Vitality contact lenses
Avaira Vitality is an updated version of the Avaira brand of lenses you love. The lenses are made from Fanfilcon A, a silicone-hydrogel material with a high water content. The recommended replacement schedule for Avaira Vitality is 30 days.
Avaira Vitality is also available in a package of six lenses.
Natural hydration
The advanced silicone-hydrogel material that comprises Avaira Vitality lenses provides excellent moisture throughout the day. The combination of high water content and high oxygen permeability ensures comfortable fit and wear and reduces symptoms of dry eye syndrome.
UV protection
The lenses also contain UV filters that protect the eyes from harmful UV rays that can potentially cause permanent eye damage. However, because contact lenses only cover a part of the eyeball, it is still recommended to wear sunglasses to protect the entire eye area from sun damage.
Properties - Avaira Vitality (3 lenses)
| | |
| --- | --- |
| Manufacturer: | CooperVision |
| BC: | 8.40 |
| DIA: | 14.20 |
| Pack size: | 3 lenses |
| Oxygen permeability: | 110 Dk/t |
| Expiration: | 12 months and more |
| Replacement schedule: | 30 Days |
| Water content: | 55% |
| Lenses Product name: | Avaira Vitality |
| Lenses Material: | Fanfilcon A |
| Power range: | from -12.00 to +8.00 |
| Extended or overnight wear: | No |
| UV filter: | Yes |
| Medical Device: | Yes |