Biofinity (6 lenses)
Biofinity contact lenses are monthly lenses produced by CooperVision. Their high water content and oxygen permeability make them suitable for occasional extended wear.
Smart alternative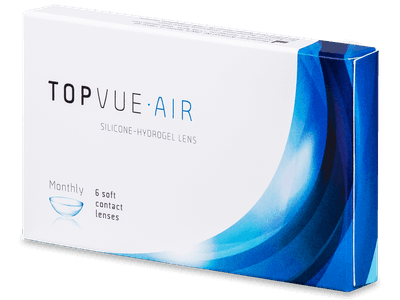 TopVue Air (6 lenses)
In stock
High breathability
High water content
Sodium-hyaluronate lubrication
Biofinity Monthly Contact Lenses
Biofinity are monthly silicone hydrogel contact lenses manufactured by CooperVision. Their material combines a high water content with excellent oxygen permeability. Biofinity contact lenses' balanced ratio of water content and oxygen permeability make them suitable for extended wear.
Aspheric design - better optical properties
Biofinity lenses have an aspheric front surface, which improves the optical properties of the lens. It provides visual acuity in low-light conditions and enables the correction of lower levels of astigmatism and presbyopia without the use of a cylinder. Rounded edges help to increase comfort and reduce eye irritation and subsequent redness. The profile of the rear side of the lens helps to spread the pressure across the eye surface for better comfort.
How do Biofinity contact lenses work?
Oxygen and other metabolites are able to pass through the lenses thanks to their high water content. The more water the lens contains, the better the oxygen permeates through it. This transfer of oxygen occurs through microscopic channels in the lenses.
Balanced water content
The unique AQUAFORM Comfort Science ™ technology (also known as the Biofinity wetting agent) uses a new silicone material, which results in more efficient oxygen permeation through the lens. This material links the hydrophilic (water-binding) and silicone (water repellent) components in a manner that creates a naturally moist surface. The water content is evenly balanced throughout the entire volume of the lens.
Resistance to deposits
The material of the contact lenses does not contains ions (electrically charged particles). The lenses are therefore able to resist the accumulation of protein and lipid deposits left by natural tears and external environmental factors.
Note: Biofinity contact lenses are intended for daily wear, but are also suitable for occasional sleeping or extended wear. This method of use should first be approved by an eye specialist.
Properties - Biofinity (6 lenses)
| | |
| --- | --- |
| Manufacturer: | CooperVision |
| BC: | 8.60 |
| DIA: | 14.00 |
| Pack size: | 6 lenses |
| Expiration: | 12 months and more |
| Oxygen permeability: | 160 Dk/t |
| Replacement schedule: | 30 Days |
| Water content: | 48% |
| Lenses Product name: | Biofinity |
| Lenses Material: | Comfilcon A |
| Power range: | from -12.00 to +8.00 |
| UV filter: | No |
| Extended or overnight wear: | Yes |
| Medical Device: | Yes |