Biofinity Energys (3 lenses)
Smart alternative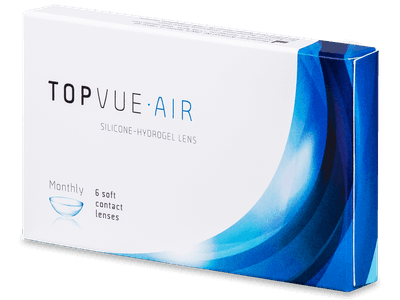 TopVue Air (6 lenses)
In stock
High breathability
High water content
Sodium-hyaluronate lubrication
Biofinity Energys Contact Lenses
These monthly contact lenses are derived from the original Biofinity lenses by renowned manufacturer CooperVision. Therefore, they offer all the benefits of the Comfilcon A silicone hydrogel material used for this product family; extra high breathability, pleasant water content and the Aquaform Technology that keeps the lenses soft and comfortable. However, these lenses also offer a revolutionary improvement: Digital Zone Optics Technology.
This package contains 3 lenses. Biofinity Energys are also available in a box of 6 lenses.
Digital Zone Optics Technology
Biofinity Energys offer an effective solution for people who often work with or spend a lot of time in front of digital devices, such as television, computer, phone, etc. and who find themselves suffering from digital eye fatigue.
Biofinity Energys have a design enhanced with Digital Zone Optics, which makes sure that your eyes don't get tired from staring at screens. Thanks to Biofinity Energys, you'll be able to see more clearly and sustain more focus while working in front of a monitor.
Other benefits of Biofinity Energys
These silicone hydrogel lenses have an extra high oxygen permeability so that your eyes receive all the oxygen they need, while the Aquaform Technology binds moisture to the lens keeping it comfortable. This allows these lenses to be worn continuously. However, never start continuous wear without consulting your eye specialist first! This method of wearing lenses is not suited for everyone.
These lenses are easy to handle thanks to the addition of a slight blue tint.
Properties - Biofinity Energys (3 lenses)
| | |
| --- | --- |
| Manufacturer: | CooperVision |
| BC: | 8.60 |
| DIA: | 14.00 |
| Pack size: | 3 lenses |
| Expiration: | 12 months and more |
| Oxygen permeability: | 160 Dk/t |
| Replacement schedule: | 30 Days |
| Water content: | 48% |
| Lenses Product name: | Biofinity Energys |
| Lenses Material: | Comfilcon A |
| Power range: | from -12.00 to +8.00 |
| UV filter: | No |
| Extended or overnight wear: | Yes |
| Medical Device: | Yes |