Biofinity Toric (3 lenses)
Biofinity Toric contact lenses are available in a pack of 3 lenses for the correction of astigmatism. They feature the unique Aquaform technology for enhanced moisture and comfort. Biofinity are approved for extended wear.
Smart alternative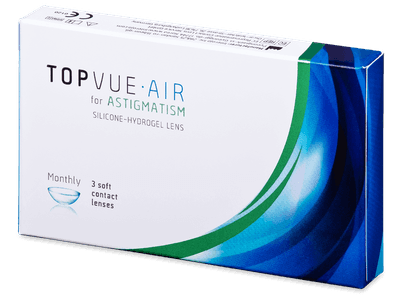 TopVue Air for Astigmatism (3 lenses)
In stock
High breathability
Sodium-hyaluronate lubrication
All day wear comfort
Monthly Contact Lenses for astigmatism Biofinity Toric Lenses
Biofinity Toric Contact Lenses are contact lenses for correction of higher levels of astigmatism by producer CooperVision available in a package of 3 lenses.
We also offer a larger package of Biofinity Toric contact lenses.
Healthy and Comfortable with option of Extended wear
These soft toric contact lenses are a particularly successful product by CooperVision, not only in terms of comfort and health, but also in terms of optical properties. Biofinity Toric Contact Lenses are intended both for daily and overnight wear. They are also suitable for extended wear for up to 7 days and 6 night without removal. However, this type of wear must be recommended by an eye specialist.
Hydration system
Biofinity Toric Contact Lenses ensure sharp vision, and the new material Comficon A and the Aquaform technology add unusually high oxygen permeability (116 Dk/t).
Properties - Biofinity Toric (3 lenses)
| | |
| --- | --- |
| Manufacturer: | CooperVision |
| DIA: | 14.50 |
| BC: | 8.70 |
| Pack size: | 3 lenses |
| Oxygen permeability: | 116 Dk/t |
| Expiration: | 12 months and more |
| Replacement schedule: | 30 Days |
| Water content: | 48% |
| Lenses Product name: | Biofinity Toric |
| Lenses Material: | Comfilcon A |
| Cylinder: | from -0.75 to -2.25 |
| Power range: | from -10.00 to +8.00 |
| UV filter: | No |
| Extended or overnight wear: | Yes |
| Medical Device: | Yes |