Biofinity XR Toric (3 lenses)
Smart alternative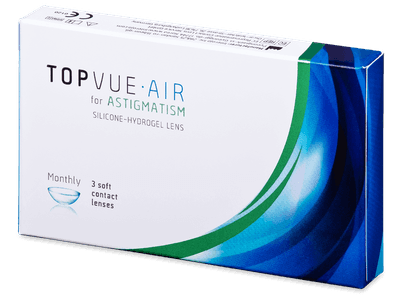 TopVue Air for Astigmatism (3 lenses)
In stock
High breathability
Sodium-hyaluronate lubrication
All day wear comfort
Biofinity XR Toric lenses
Biofinity XR Toric
are silicone-hydrogel contact lenses produced by
CooperVision
to correct astigmatism. Thanks to a wide range of axis and cylinder values,
these toric lenses are capable of correcting even high degrees of astigmatism
. These lenses have a
monthly replacement schedule
, however, in consultation with your optician, there is a possibility of
continuous wear
.
Breathability and hydration
The material known as
Comfilcon A
, along with CooperVision's patented
Aquaform technology
, give the lenses a
high oxygen permeability
(breathability) as well as
sufficient hydration and lubrication
. The eyes are comfortable all day long and have a healthy and fresh appearance. The innovative lens material and design also ensures optimal flexibility, guaranteeing a perfect fit and enhanced comfort of wear.
Continuous wear
Thanks to the combination of high water content and superb breathability, Biofinity XR Toric contact lenses are approved for
continuous wear for up to 30 days and 29 nights
. Before beginning an extended or continuous wearing regimen, however, it's important to consult this with your eye-care specialist.
No more compromises
Thanks to the wide range of parameters, users with astigmatism can always find the
right combination for their unique prescription
. There's no need to compromise by ordering parameters that are most similar to your actual measurements with cylindrical values ranging to
5.75 and axis values from 5 ° to 180 ° available.
Properties - Biofinity XR Toric (3 lenses)
| | |
| --- | --- |
| Manufacturer: | CooperVision |
| DIA: | 14.50 |
| BC: | 8.70 |
| Pack size: | 3 lenses |
| Oxygen permeability: | 116 Dk/t |
| Expiration: | 12 months and more |
| Replacement schedule: | 30 Days |
| Water content: | 48% |
| Lenses Product name: | Biofinity XR Toric |
| Lenses Material: | Comfilcon A |
| Cylinder: | from -0.75 to -5.75 |
| Power range: | from -20.00 to +20.00 |
| UV filter: | No |
| Extended or overnight wear: | Yes |
| Medical Device: | Yes |