Proclear 1 Day (30 lenses)
Proclear 1 Day are innovative, aspheric contact lenses from CooperVision that significantly improve the comfort of wear. They are made using CooperVision's patented PC Technology, which increases the amount of moisture contained within the lenses.
Smart alternative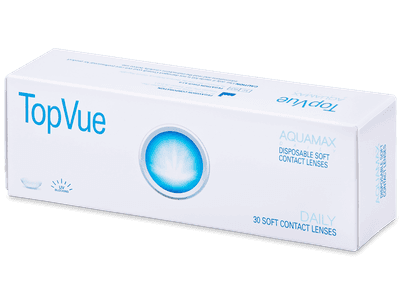 TopVue Daily (30 lenses)
In stock
UV filter
Soft and pleasant material
Extra thin edges
Daily disposable contact lenses Proclear 1 Day
Proclear 1 Day Contact Lenses were launched on the market in March 2009. In the segment of daily contact lenses, they are a significant shift towards quality and comfort. This innovative product by Cooper Vision boasts perfect tolerability and all-day comfort.
We also offer larger pack of Proclear 1 Day 90 lenses at bargain price.
Material for comfortable wear
Proclear 1 Day Contact Lenses are made from a unique material containing synthetic molecules of Phosphorylcholine (PC), a substance found naturally in human cell membranes. These molecules attract and surround themselves with water, which maintains lubrication and inhibits deposit formation. The so-called PC Technology significantly contributes to the health and comfort of wearing contact lenses. The tolerability of Proclear 1 Day Contact Lenses is also enhanced by pleasantly round edges, which reduce irritation of conjunctiva.
Clear vision in all conditions
Due to front-surface aspheric design, Proclear 1 Day Contact Lenses are a product with the best optical properties on the market. This technology guarantees clear vision in all light conditions. In general, daily contact lenses are the healthiest way for optical correction because debris, proteins and other allergens have no time to form deposits on your contact lenses. This property is important especially for people with pollen allergies. Each pair is designed for one-day wear. Proclear 1 Day are not suitable for overnight wear. Don't waste time on cleaning, and don't waste money on buying solutions. Accidental damage or loss (for example, while swimming or having a shower) is not so financially painful as with monthly contacts.
Properties - Proclear 1 Day (30 lenses)
| | |
| --- | --- |
| Manufacturer: | CooperVision |
| BC: | 8.70 |
| DIA: | 14.20 |
| Pack size: | 30 lenses |
| Replacement schedule: | 1 Day |
| Expiration: | 12 months and more |
| Oxygen permeability: | 28 Dk/t |
| Water content: | 60% |
| Power range: | from -12.00 to +8.00 |
| Extended or overnight wear: | No |
| UV filter: | No |
| Lenses Material: | Omafilcon A |
| Lenses Product name: | Proclear 1 Day |
| Medical Device: | Yes |