Proclear Multifocal XR (6 lenses)
Smart alternative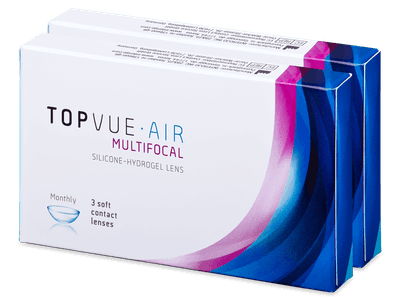 TopVue Air Multifocal (6 lenses)
In stock
High breathability
Sodium-hyaluronate lubrication
All day wear comfort
Proclear Multifocal XR Contact Lenses for Correction of Presbyopia
Proclear Multifocal are monthly contact lenses produced by CooperVision, which are used to correct presbyopia. These contact lenses are designed for patients whose presbyopia reaches a high value addition – to +4.00 (ADD Power). Thanks to the unique Balanced Progressive ™ technology, Proclear Multifocal contact lenses help you achieve bright and sharp vision at all distances.
Hydration System
The moisturising PC technology works with a hydrophilic (water binding) phosphorylcholine substance which is contained in the material of Proclear multifocal lenses. Water forms on the lens surface's protective film, and then counteracts dehydration and prevents the accumulation of deposits and impurities on its surface.
Effective solution to correct presbyopia
Presbyopia is an eye defect, but it is also a natural consequence of the aging of the human body, and affects many people in their forties. Presbyopia causes impaired vision of close subjects. Proclear Multifocal XR, thanks to its special design, are capable of correcting vision at all distances.
Note: We do not recommend buying multifocal lenses without prior advice from an eye specialist. These lenses are available only for pre-order.
Properties - Proclear Multifocal XR (6 lenses)
Manufacturer:
CooperVision
BC:

8.70

DIA:

14.40

Pack size:
6 lenses
Add power:

+1.00 D,

+1.00 N,

+1.50 D,

+1.50 N,

+2.00 D,

+2.00 N,

+2.50 D,

+2.50 N

Expiration:

12 months and more

Replacement schedule:

30 Days

Oxygen permeability:

42 Dk/t

Water content:

59%

Power range:

from -20.00 to +20.00

Extended or overnight wear:

No

UV filter:

No

Lenses Material:

Omafilcon B

Lenses Product name:

Proclear Multifocal XR

Medical Device:

Yes