TopVue Air (6 lenses) + Gelone Solution 360 ml
Detail: Package savings 1.50 € 26.50 EUR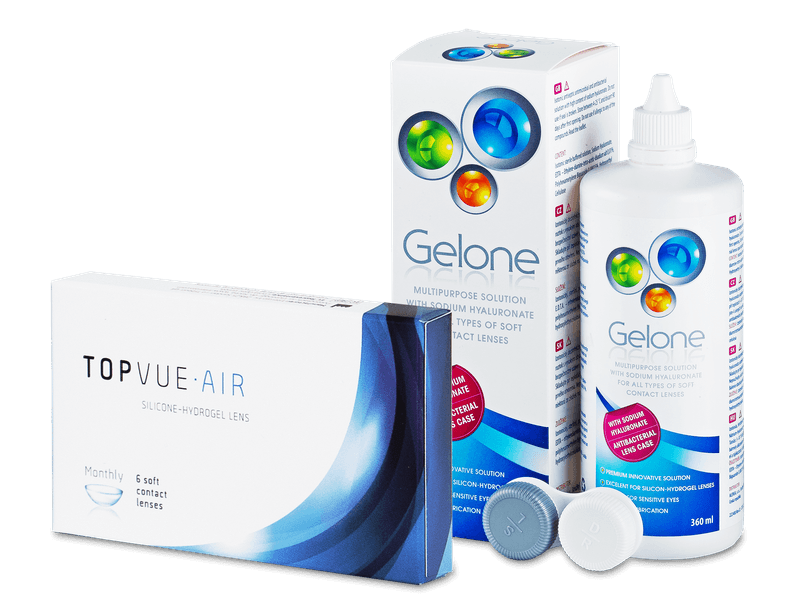 ---
TopVue Air Monthly Contact Lenses
TopVue Air are the latest generation of advanced silicone hydrogel contact lenses with monthly replacement schedule, these lenses are extremely breathable and retain the required water content needed. The new lens design and technology guarantee high comfort and healthy wear.
Read more about TopVue Air Contact Lenses
Gelone solution
Gelone is a multipurpose solution for cleaning and storing for all kinds of soft contact lenses. With its unique composition, which was created by combining disinfecting ingredients and hyaluronic acid, Gelone solution is suitable for even the most irritated eyes. The cleaning substances of the solution, along with the included antibacterial case with ionisation finish, prepare an excellent surrounding for disinfection. Hyaluronic acid provides contact lenses wearers with flexibility, softness, and moisture. The solution is supplied in a pack of 360 ml volume with one antibacterial contact lens case.

Read more about Gelone Solution
Share your experience about this product!